Richard A. Smith
Realogy is committed to operating with the highest standards of integrity and ethics. In support of this goal, we have developed an Ethics and Compliance Program for all employees and officers at Realogy. A key component of this program is The Code of Ethics. The Code of Ethics provides the guiding principles of our organization and addresses fundamental laws and regulations that apply to our business. It also provides a framework that outlines our responsibilities as individuals and employees in ensuring that we not only adhere to the letter and spirit of the law but also foster and maintain a spirit of ethical conduct.
In each of the past six years, Realogy has been recognized as one of the World's Most Ethical Companies by Ethisphere Institute, a leading international business ethics think-tank. It is a tremendous endorsement of how we manage this company, and most significantly, this honor underscores how well our employees uphold our Code of Ethics each and every day.
Awards may come and go, but the enduring value of our commitment to ethics is reflected in how we operate our business. It enhances our brands and ensures that our reputation is one of unwavering commitment to ethics and integrity worldwide. Together with our employees, we have created a culture that inspires a fundamental mindset of always doing the right thing.
Ethics and integrity are embedded in our business processes and throughout all levels of our organization. A strong ethical foundation provides a competitive advantage. Ethical conduct plays an important role in protecting our company, our people and our customers.
As part of our responsibility to Realogy and its stakeholders, each employee is required to annually: 1) complete Code of Ethics training; and 2) certify that he or she has received, read, understood, complied with and will continue to comply with The Code of Ethics. Employees are also encouraged to call a "Code of Ethics Line" to report any suspected violation of our ethics program.
We understand the work we do supports very important aspects of our clients' lives: their homes and their businesses. Our commitment to our clients is to conduct ourselves with integrity. It is our expectation that Realogy will be known not just for our talents and our achievements, but also for our unwavering commitment to ethics and integrity.
Sincerely,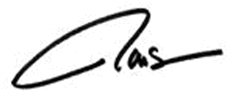 Richard A. Smith
Chairman, Chief Executive Officer and President